INSTRUMENT REPAIR TECHNICIANS
Manning Music is looking for woodwind, brass, and string
Instrument Repair Technicians
to expand our already busy repair crew. Come live in the affordable Midwest with fresh air and tons of outdoor activities. We treat our repair staff like professionals with $35,000/annual minimum starting plus vacation, retirement plan, moving expenses and possible signing bonus. Check out our state-of-the-art equipment with assistance from our experienced staff. Two to four years experienced preferred. Music is Life!
If you are looking for an exciting career opportunity in a family atmosphere, please email your resume to Todd Manning at [email protected], or call 785-969-3030.
Benefits of Working at Manning Music
♫ Development & Benefits
Manning Music offers a variety of benefits: Health Insurance, Retirement Savings Plan, Vacation Pay, Moving Expenses and a possible signing bonus (dependent on experience). Manning Music employs five technicians currently, with more than 70 years of combined experience in the instrument repair industry.

♫ Advancement
We encourage all employees to take advantage of training opportunities that could lead to advancement at Manning Music. Growth and experience combined with technical skill and passion for the work lead to opportunities for advancement at Manning Music. We are big supporters of the National Association of Professional Band Instrument Repair Technicians and encourage our technicians to attend and host clinics.
♫ Culture & Diversity
Manning Music is the oldest continuously operating music store in Topeka, Kansas. We are a family-owned business that thrives on personal experiences, with our employees and with our clientele. Our instrument repair technicians feel valued and respected for their distinctive contributions to our music store and our clients with their instrument repair expertise.
Music is Life at Manning Music. We recognize that every employee's culture brings something special and unique to our customers and their passion for music.
♫ Immediate Opening
We have immediate openings for experienced woodwind/saxophone and string repair technicians at Manning Music in Topeka, Kansas.
If you are passionate about providing support for artists through adjustments, repairs and customizations, when needed, we would love to talk with you today!
We are looking for instrument repair technicians with either previous training or experience and look forward to visiting with you about what you can bring to our musical instrument repair team.
Living in Topeka, Kansas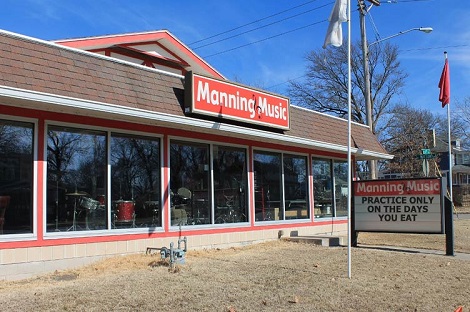 About Manning Music
Manning Music has been serving the Topeka area for more than 35 years. We specialize in Band & Orchestra instruments, for sale and for rent, and run a Full-Service Repair Shop to keep your instrument playing well. We also stock dozens of Electric Guitars, Acoustic Guitars, Bass Guitars, Amps, Drum Sets, Keyboards and Digital Pianos.

In 2018 we added a second location, taking over for Rick's Music Shop & Guitar Service which has been in Manhattan, Kansas since 1992. This location specializes in Guitars, Amps, and Guitar Accessories, but we are now also stocking dozens of Band & Orchestra instruments.